Today is the 24/7 Samaritans Awareness Day so we thought we would look back at a project PCA worked on to bring a Silver-Gilt medal-winning garden to life for the RHS Chelsea Flower Show.
The Samartians' Listening Garden was inspired by stories of people who found the courage to reach out to Samaritans in their darkest times. It went on to win a Silver-Gilt medal.
The garden was designed by Darren Hawkes, who has recently qualified as a listening volunteer. The conceptual garden was designed to depict the challenging journey many people take when they reach out to Samaritans and the comfort and sanctuary they find when speaking to a listening volunteer.
It was created using materials that have been reclaimed from demolition sites or salvaged from scrap yards to tell the story of 'crisis to hope'.
Darren engaged with PCA to consider the initial sizes of the beams he wanted to salvage for the steel frame at the show. Once the steelwork and concrete slabs had been sourced, we then provided a design to give to the show organisers to demonstrate that it was stable and safe.
The steel frame was designed to bear onto a compacted hardcore foundation to remove concrete from the temporary structure.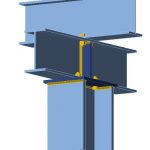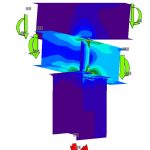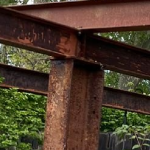 The steel frame was designed using a 3D computer model which allowed us to consider different load configurations to check that the frame remained stable regardless of the order that the panels were hung in, allowing Darren maximum flexibility when it came to assembling the frame on the display at the show.
The wires were all made up in different lengths to suit the individual heights of each concrete panel with the threaded stud each end providing some adjustment to allow the position, again to maximise flexibility for Darren when assembling the frame at the show.
PCA director Andrew Horton said: "It is always a pleasure working with Darren. His high standards and practical approach to design align well with our own principles so we were delighted to be able to help on this fabulous project.
"Darren's initial sketches and thought process for the garden was something that we really bought into. The use of recycled materials and the ability to build the whole garden, compete with running stream, in just weeks was impressive.
"The amount of work that goes into the Chelsea Show gardens is simply extraordinary and while our input may have been limited, it was a pleasure to be a small part of this successful build."
A remodelled version of Samaritans' Listening Garden will be permanently relocated at a Samaritans branch.