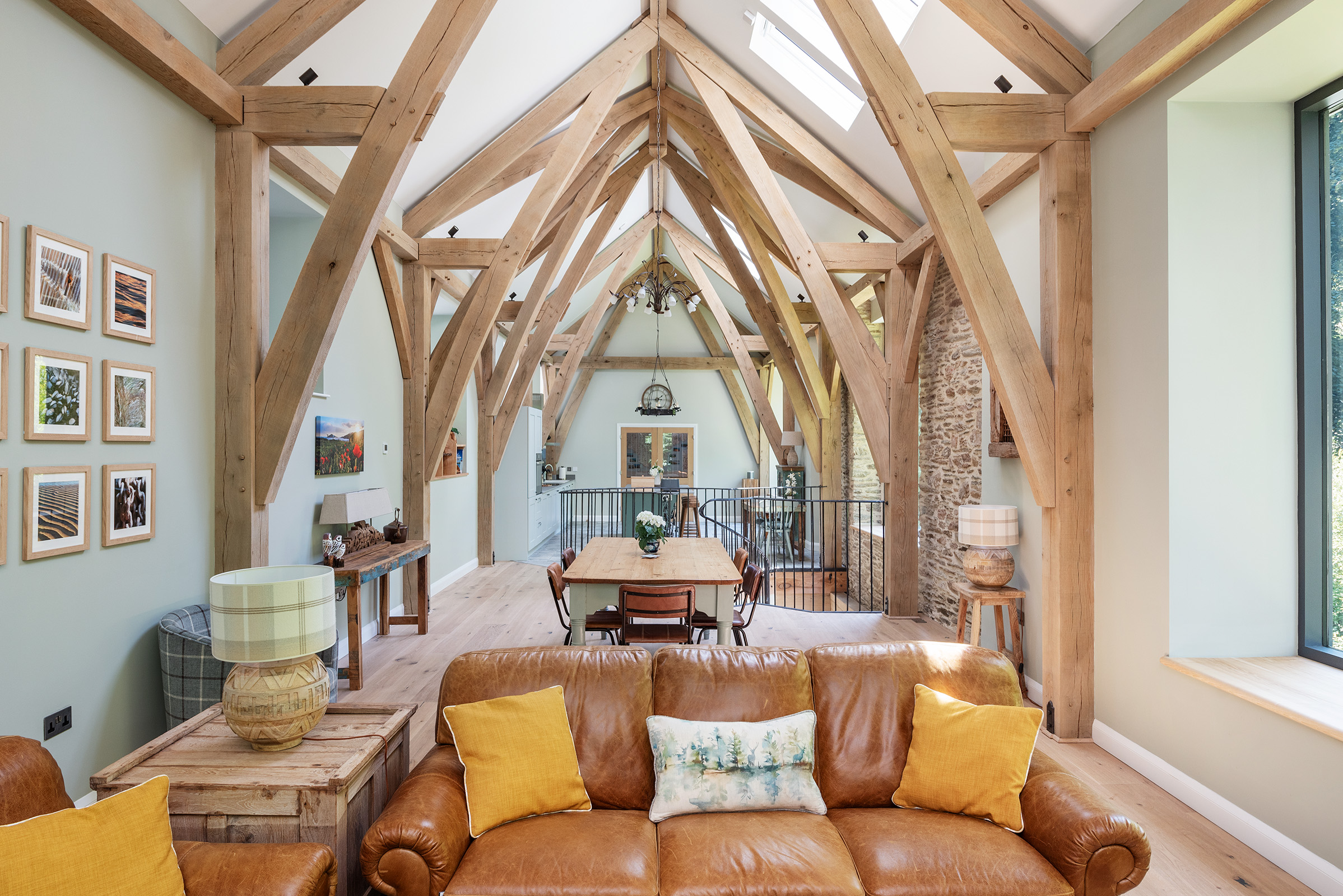 This multi award-winning project saw us work closely with BBH Architects and oak-framed building designer and makers Carpenter Oak to create a stunning holiday home.
Willowplatt Barn is near Aveton Gifford in Devon. It was an abandoned 230-year-old stone structure that not been used for a very long time.
PCA was involved in this project from an early stage to give a pre-planning structural appraisal of the building and produce a drainage strategy.
The barn had very little lateral restraint to the principal walls and no first floor, but it was in surprisingly good structural condition. Only one small section of stone walling needed rebuilding due to a previous opening that had been made which affected the adjacent flat stone arch lintel.
It is believed the barn was a weavers' barn hence why it had such large original openings in the stone walls at high level to gain natural light for working. At the lower floor level, the barn is cut into the natural rock face. It is rare to see such large rock faces without support. This was faced with concrete and waterproofing sufficient to the make the space habitable.
Aside from our clients, a resident barn owl also needed to be accommodated. The building work and final design allowed for specific loft space to be set aside for the owl in the finished building.
The client had a desire for an oak frame, which was cleverly designed by Carpenter Oak and BBH Architects, to thread down through the existing building. PCA undertook all the detailed structural calculations for the oak framing and new floor structures.
The client said: "We are both fantastically proud of the project, not just in terms of the end-result of the amazing barn itself, but also of the brilliant and inspirational team that came together to make it all happen.
"We can't thank you enough for all your hard work, and for the ideas, inspirations, skill and craftsmanship that you all poured into the barn's old stone walls. What a team!"
And, specifically to PCA: "Thanks again for all your help with the tricky bits."
Willowplatt Barn went onto win multiple awards in 2021.
Structural engineering, conservation engineering
Grand Final Winner and Regional Winner, LABC Building Excellence Awards 2021, Build It's Best Oak Frame Home Award 2021