If you live anywhere in the South Hams or, indeed, in other Devon or Cornish coastal areas, you already know building on the side or into a hill is possible. So many houses or apartments in this area are perched on a hillside or seem to blend into a landscape of a sloping plot.
Some of these properties may have been there for decades but we are seeing plenty of new developments that require our engineering expertise to meet both structural and aesthetic requirements.
If space allows the ground can be removed and a space left between the retained bank or slope and the new property. The bank must be protected against landslides and depending on the strata, the retaining element could be gabion baskets, stone-faced reinforced concrete walls or rock anchored mesh to support deep cut faces.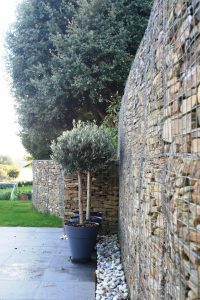 See Ferncliff as an example of this or our photos from Woodspring where we used a deep mesh-covered wall to support the land at the rear of the house, as well as the driveway and level garden.
Where properties blend into the landscape or basements need to be dug out to ensure a roofline does not exceed recommended height for the area or boundary conditions dictate, there is often no space behind. This means waterproofing will also be needed to prevent damp. Willowplatt Barn is an example of this type of project, as well as The Boathouse where much of the property was carved into the hillside.
Large scale excavations will require substantial temporary works or permanent retention schemes and these need to be considered early in the project as can often be the key to unlocking difficult sites or realising these hillside schemes.
We also devised temporary works for Clock Cottage whereby proprietary piles were used to support the existing building while contractors dug out the hillside beneath to create a new basement area.
Securing the remaining hillside and damp-proofing are not the only challenges associated with building on a slope. Access can also be challenging. Roads to hillside properties can be narrow and driveways can be awkward to negotiate so getting equipment and building materials onto site can be problematic.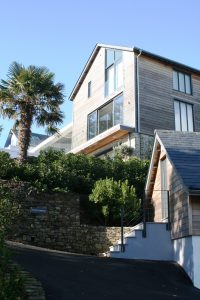 Drainage too must be considered when building on a slope. Rainfall must be directed away from your property's foundations without flooding another property or public area, often both, during construction and in the permanent state. Sewage needs to be channelled the right way too and may require pump stations to connect to higher level connections.
Building on a slope can be costly due to the groundworks, extra time, materials and expertise potentially required, but the expense is often outweighed by stunning views, extra light and landscaping options that can be gained from being on a hillside.
If you have your eye on a hillside plot that you would like to build on or a property on a slope you would like to redevelop, please do not hesitate to get in touch with us. Expert advice is always key for a project like this.