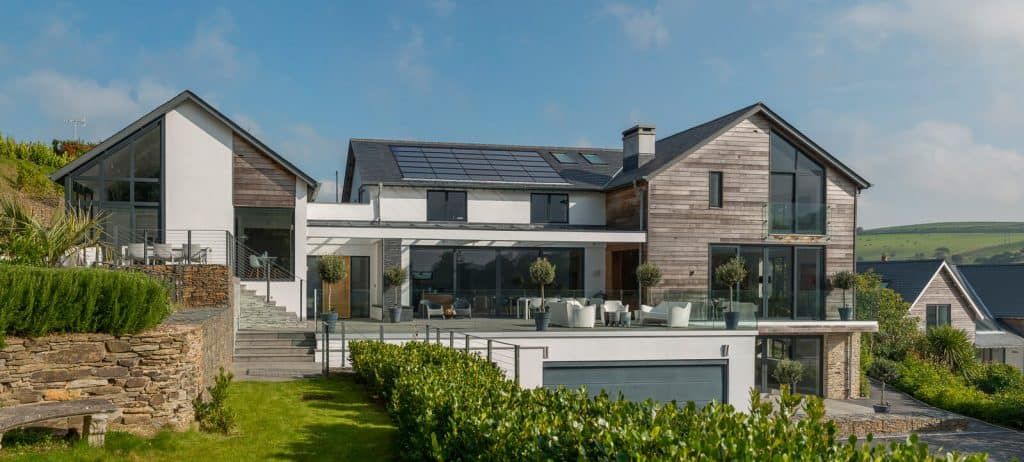 When Emma and Duncan Harper and their family relocated from London to Kingsbridge, they had trouble finding their dream home. When they found the location they wanted, next to Bowcombe Creek, the existing house required so many changes that the architects, Harrison Sutton Partnership advised them to start again with a new-build property, but there were some challenges along the way that required PCA's expertise.
The architect's plans for Woodspring revealed a three-storey 4,000sq ft house that embraced open spaces complemented by large bi-fold doors and windows that make the most of the view and provide access to outdoor living spaces. Standard supporting walls and beams would not be able to cope with the span and weight of this structure.
In addition, the plans required four metres of the steep bank next to the existing property to be dug away to accommodate the lower floor of the new property so that the roofline did not exceed recommended height for the area. Once dug away, the remainder of the bank needed to be supported to protect the house.
We advised the use of substantial supporting walls spanned by a 7.3m lattice girder between the first and ground floors. This provided the stability required to meet the need for the extensive open space, as well as the tight tolerance required to accommodate the gliding bi-fold doors.
PCA also advised the construction of a deep mesh-covered stone wall to support the remaining bank that runs behind Woodspring, borders the driveway, and supports the level garden area. This will serve to prevent any landslides in the future.
The result is a standout, stunning property on the water's edge on the outskirts of Kingsbridge. PCA's experience enabled the Harpers' dreams to become a reality in working with the architects to create a spacious property that make the most of the estuary views.
Emma said: "One of the most enjoyable aspects of the project was the people we had working around us. They were such wonderful people that made the whole process really fun. We have watched this amazing house grow out of the landscape and it is everything we could have dreamed of."
Woodspring was built 10 years ago and still looks as stunning now as it did when it was first completed. See here for more photos. Woodspring is now available as a luxury holiday home from Finest Stays.
Photos: Finest Stays