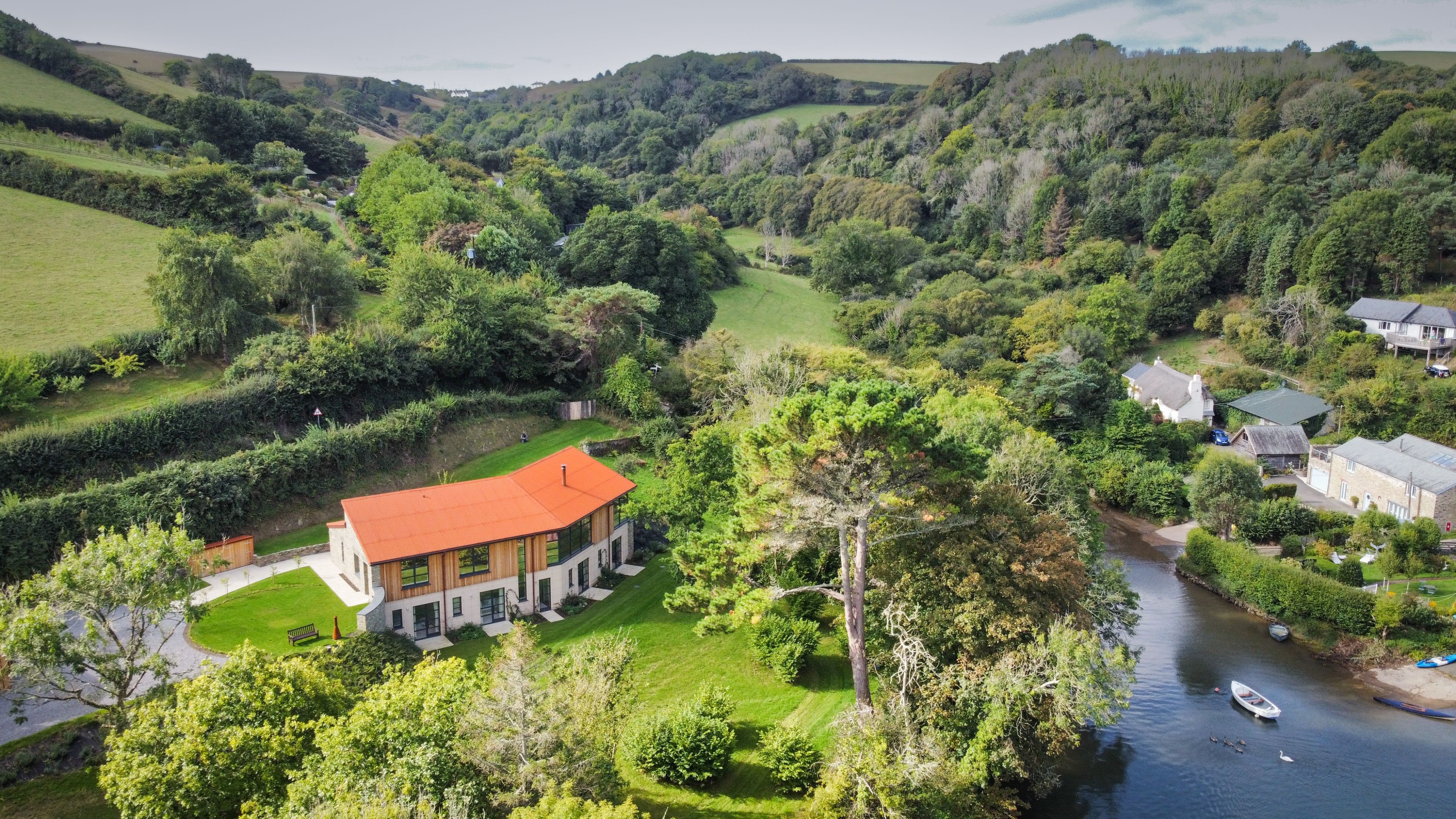 Goodshelter Cottage was a small stone dwelling situated right on the edge of the road in the hamlet of Goodshelter near Waterhead Creek in the South Hams.
The new owners wanted to demolish it to make way for a new home and garage, to be renamed Goodshelter Bay, in the centre of the site to make better use of the space and to benefit from views of the nearby creek.
PCA was called in to help realise the very bespoke scheme designed by architects Harrison Sutton Partnership.
The scheme was not modular, in that ground floor rooms were not in line with the rooms above on the first floor, and the building changed direction too.
The clients were also keen on creating extra light using a skillion or clerestory COR-TEN® roof. The term clerestory comes from 'clearstoried' whereby a row of windows or a single window are set above the roof line.
This meant the entire property needed substantial retaining walls to support the two storeys and to protect the half-submerged ground floor. Such was the state of the ground, we also advised building submerged supporting walls at right angles to the main retaining walls to support the posts for the loggia at the front of the property. We also advised on the steels required above the windows and the concrete floor.
The architect's scheme also involved exposed interior timberwork. Often this is boxed in, but the timber was a standout feature which meant every joist, beam, connection, etc. had to fit together with pinpoint accuracy as they would be on show.
Furthermore, the client chose laminated glulam engineered timber that was prefabricated off site by Buckland TImber in Crediton, so our measurements were crucial to ensure the timberwork could be seamlessly installed. By choosing glulam, the client chose a more modern look than traditional timber but also benefited from its strength and resistance to shrinkage care of the layers that are bonded together with durable, moisture-resistance adhesive.
The end result is a truly stunning property that is currently available to book for a luxury, waterside South Hams holiday through Finest Stays. It is a true representation of an ambitious and bespoke architect's scheme and skilful construction that needed some structural engineering expertise to ensure the clients' vision could be realised.
Robert Luscombe General Builder
Photos: Finest Stays