Our client wanted to gain some outdoor space in this amazingly located apartment, so Andrew Lethbridge Associates gained planning permission for a rooftop terrace within the existing roof pitch.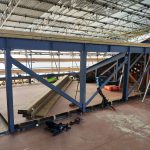 This project required a fair amount of structural intervention given that the existing roof was constructed using long-spanning trussed rafters, but the vision is now starting to come together thanks to our structural steel truss designs and great work by WM Construction.
It may seem like a lot of work for a terrace and balcony, but with views like that this, it is so worthwhile.
The wrap-around scaffold provides shelter from weather, but almost more importantly, stops the workforce from just staring at that view all day!