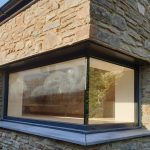 PCA was called into this project when the client requested a seamless view from their converted stone built outbuilding, which now serves as a home office. The client requested a corner window without any corner posts, frames or visible structure.
We designed a bespoke steel frame around the proposed opening. We used structural design and CAD software Tekla and Revit to produce the design and details in 3D ahead of construction.
This helped towards creating a seamless product whereby the structure is completely concealed by the stonework and internal finishes.